"The Longsword is an offensive weapon. It is used for full-speed charges and plowing through enemy lines." -Skyla
3 parts make up this Tinker's Weapon,
Class: Melee Weapon
Abilities:
Right-click: Lunge
When released, it sends you careening forward at breakneck speed.
Passive: 
Charge Boost
Does 1.5x damage and knockback while sprinting.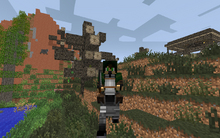 Table above tested in Donkey Pack (TConstruct_1.6.4_1.5.0d12.1)
A Longsword in its natural habitat. (2pics)