Materials and You by Skyla, is a book that you automatically receive after loading a world for the first time since installing the mod. It is used as a method of displaying the tools, materials, forge and how to get started in Tinkers' Construct. Since the release of Tinkers Construct to 1.10.2 the book is no longer split into several Volumes and is therefore much shorter but better organized. It also updates if the original copy is altered [due to an update or other reason (including, but not limited to adding extensions, such as Mechworks)].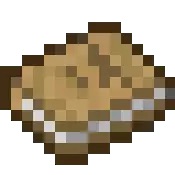 Introduction
Welcome to the first edition of Materials and you: surviving the first day and beyond. Within these pages you will find the first steps to making the tools and materials you need to survive.
The first step in making tools is crafting a Blank Pattern. It is a blank slate to stamp a shape onto, providing reference for future creations. The patterns are shaped on the Stencil Table or are used as tabletops.
You can then shape a material in a Part Builder with the pattern, then combine parts in the Tool Station. Patterns can be stored and accessed in a Pattern Chest.
Together these make the Tool Workshop. It is recommended you keep all of these nearby when using any of them.
Blank Pattern
Stencil Table
Part Builder
Pattern Chest
Tool Station
Tool Forge
Drying Rack
Oreberry Bushes
Sometime in your travels you will happen upon the bush known as the Oreberry. They grow underground in dark areas, and require close to complete darkness to produce anything.
The berries can be melted down into nuggets and ingots, making them an invaluable source of metals.
Slime Channels
Slime channels are useful for moving items or entities around. They are used as a sort of easily placeable water and can be paired with bounce pads for best effect.
Survival
A few traps or blockades may help with your early survival experience.
Punji Stick
Barricade
Smeltery
Once you're established you can begin to process metals in a more efficient manner. The scope of the Smeltery is beyond this volume, but a few recipes will help you get started.
Note: The Smeltery is required to process all metals, including Iron
Grout
Seared Brick
Seared Bricks
Smeltery Controller
Seared Furnace
This section goes over what you need to build a working Seared Furnace.
Tinker Tank
This section goes over what you need to build a working Tinker Tank.
Obtaining
As stated above the book is automatically received after loading a world for the first time since installing the mod, but if you lose your copy you can always craft a new one.
If you ever find yourself without this book, a new one is simple to make. Other books can be made from this one aswell.
Book
Materials and You: Volume 1
Materials and You: Volume 2
Mighty Smelting